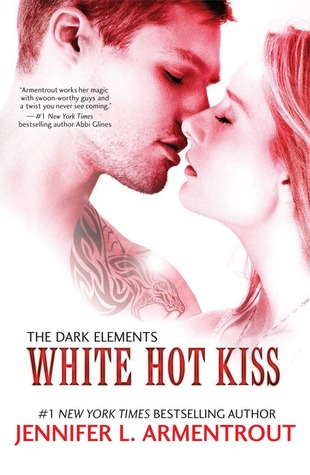 White Hot Kiss – Book 1
Synopsis – One kiss could be the last.
Seventeen-year-old Layla just wants to be normal. But with a kiss that kills anything with a soul, she's anything but normal. Half demon, half gargoyle, Layla has abilities no one else possesses.
Raised among the Wardens—a race of gargoyles tasked with hunting demons and keeping humanity safe—Layla tries to fit in, but that means hiding her own dark side from those she loves the most. Especially Zayne, the swoon-worthy, incredibly gorgeous and completely off-limits Warden she's crushed on since forever.
Then she meets Roth—a tattooed, sinfully hot demon who claims to know all her secrets. Layla knows she should stay away, but she's not sure she wants to—especially when that whole no-kissing thing isn't an issue, considering Roth has no soul.
But when Layla discovers she's the reason for the violent demon uprising, trusting Roth could not only ruin her chances with Zayne… it could brand her a traitor to her family. Worse yet, it could become a one-way ticket to the end of the world.
Average rating – 4,29/5 Stars
Review – First of all, ignore the cover and the title of the book because in my opinion they look bad and make a lot of people feel sceptical about picking up this book. Seriously, no amount of great marketing can help when the cover and title of the book looks like a continuation of 50 Shades of grey.It seem like it could be some sort of cheesy romance story along the lines of Twilight ( no offence Twilight fans), that is actually rather messy and very cliche. Either way the title "White hot kiss" does not say much about the book, however it does have some relevance to the main character ( Layla) who has never kissed anyone due to her demon – soul sucking powers.
Right from the start this book is brilliant as it sucks you in with the action and humour from Chapter 1! The high level of humour and sarcasm keeps the book light, where in some places it can discuss uncomfortable topics such as virginity and child abandonment. Layla is a kick ass character, yet she isn't made out to be completely perfect and unbeatable, which makes her more realistic. Roth's character is portrayed at first as the stereotypical demon, but as the book progresses, the character development is excellent. All the character change in their own ways, mostly becoming more mature as they deal with many crisis. Sam and Stacy are two human characters that make the world building more realistic. They are funny, and in the next two books very important.
The book has a love triangle between Layla, the boy she grew up with (Zayne the warden), and a demon (Roth) that she meets unexpectedly at the start of the book, and who turns her beliefs about demons and warden upside-down. I don't hate love triangles as a concept, but I still found this one to be a little forced and irritating at times. No matter how many times Layla wanted Zayne, it seemed obvious straight away that Roth took his place the moment they met, and that Zayne was more of a brother than a boyfriend. I hope that the love triangle doesn't continue for the rest of the books.
My rating – 4/5 Stars