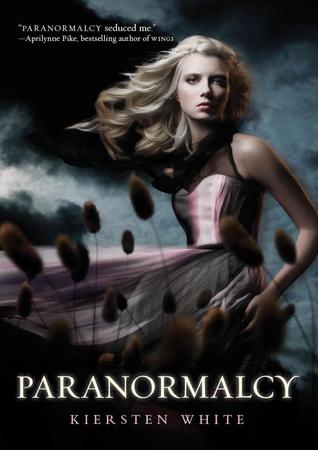 Goodreads Synopsis – 
Evie's always thought of herself as a normal teenager, even though she works for the International Paranormal Containment Agency, her ex-boyfriend is a faerie, she's falling for a shape-shifter, and she's the only person who can see through paranormals' glamours.
But Evie's about to realize that she may very well be at the center of a dark faerie prophecy promising destruction to all paranormal creatures.
So much for normal.
Goodreads Rating – 3,92/5 Stars
My Review – 
When I first picked up this book I have to admit that I wasn't expecting much, but I was pleasantly surprised. Usually when I read books with teen protagonists they are always incredibly whiny and cocky, but Evie was actually a decent and realistic sixteen year old.
It was an incredibly fact paced and entertaining book that didn't take much thought or concentration and is probably targeted at a middle grade audience. The plot line was interesting as was the world building as it was unique but not overly complex however I do think that some things could have been better explained ( for example the faeries), but overall It was well written. 
Of course there is a love triangle but that is too be expected of most YA books, however I must say that it was a weak triangle… in the sense that from the start you know exactly who the Evie will end up with, which makes the other guy a nuisance. 
My Rating – 3,5/5 Stars