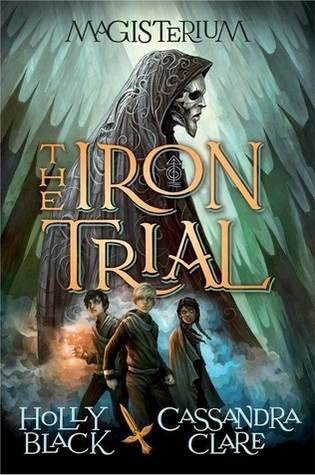 Goodreads Synopsis –
Most kids would do anything to pass the Iron Trial.
Not Callum Hunt. He wants to fail.
All his life, Call has been warned by his father to stay away from magic. If he succeeds at the Iron Trial and is admitted into the Magisterium, he is sure it can only mean bad things for him.
So he tries his best to do his worst – and fails at failing.
Now the Magisterium awaits him. It's a place that's both sensational and sinister, with dark ties to his past and a twisty path to his future.
The Iron Trial is just the beginning, for the biggest test is still to come . . .
Goodreads Rating – 3,93/5 stars
My Review –
I must admit that I went into this book thinking that it would be childish and boring, however I was pleasantly surprised. In my opinion the cover isn't great and makes the book seem very juvenile, however upon reading it I believe that it is a good YA novel. Cassandra Clare and Holly Black are yet to disappoint me.
Call, the main character was unique which made him interesting and likeable, which seems rare nowadays with YA as the male protagonist are always "perfect" and frankly quite annoying, but our protagonist is complex and weird which makes him intriguing.
The book was fast paced and contrary to what some may say I was surprised by the ending and the little twist in the plot. Some may say that the entire book was very predictable, however I didn't see it that way and really enjoyed it.
In terms of friendships, I was pleased that there were no love triangles (yay!), and that romance wasn't a key part of the book at all, but it looked more at friendship and how characters with very different personalities were able to put their differences and parents beliefs aside and become friends. It some small way the book did remind me of the Percy Jackson series, just because of the awesome friendships within that series and the well paced character development throughout the series.
My Rating – 4/5 Stars