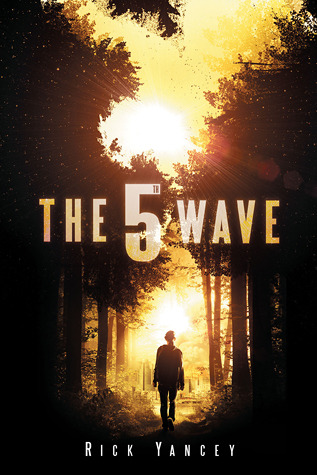 Synopsis –
After the 1st wave, only darkness remains. After the 2nd, only the lucky escape. And after the 3rd, only the unlucky survive. After the 4th wave, only one rule applies: trust no one.
Now, it's the dawn of the 5th wave, and on a lonely stretch of highway, Cassie runs from Them. The beings who only look human, who roam the countryside killing anyone they see. Who have scattered Earth's last survivors. To stay alone is to stay alive, Cassie believes, until she meets Evan Walker. Beguiling and mysterious, Evan Walker may be Cassie's only hope for rescuing her brother or even saving herself. But Cassie must choose: between trust and despair, between defiance and surrender, between life and death. To give up or to get up.
Goodreads Rating – 4.16/5 stars
My Review –
This was a great book! Personally, I haven't read many books concerning alien-invasion, so I didn't really have expectations in terms of how the aliens would be portrayed. The concept of the aliens having human bodies was interesting ( yes, I know that Stephanie Meyer's book – The Host has a similar plot). Overall, the book was action packed and entertaining. I was pleasantly surprised by the great character development and the excellent world building, which made the plot seem so realistic, thus making it a fairly popular novel.

In terms of the romance… It was rushed and felt awkward. I'm incredibly critical of relationships in YA novels so my opinion may oppose others.

As mentioned before, the characters are quite realistic both in their emotions and their actions. They act the way I would If I were confronted with tragic events. Of course, there is a hint of hyperbolism throughout the novel but that is too be expected. It is impressive that Yancey was abe to maintain a sense of humanity whilst creating extraterrestrial characters.
In conclusion, this book may seem quite large but I read it within the span of two days and enjoyed every minute of it. Remember that once you have read it there are another two books in the series and a movie to watch. Happy Reading!
Be sure to let me know what your opinions are about this book in the comments below!
My Rating 4.5/5 Stars