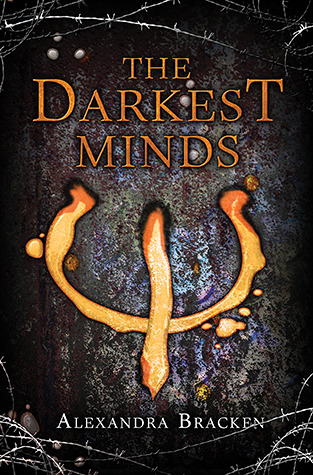 Synopsis – 
When Ruby woke up on her tenth birthday, something about her had changed. Something frightening enough to make her parents lock her in the garage and call the police. Something that got her sent to Thurmond, a brutal government "rehabilitation camp." She might have survived the mysterious disease that had killed most of America's children, but she and the others emerged with something far worse: frightening abilities they could not control.
Now sixteen, Ruby is one of the dangerous ones. When the truth comes out, Ruby barely escapes Thurmond with her life. She is on the run, desperate to find the only safe haven left for kids like her—East River. She joins a group of kids who have escaped their own camp. Liam, their brave leader, is falling hard for Ruby. But no matter how much she aches for him, Ruby can't risk getting close. Not after what happened to her parents. When they arrive at East River, nothing is as it seems, least of all its mysterious leader. But there are other forces at work, people who will stop at nothing to use Ruby in their fight against the government. Ruby will be faced with a terrible choice, one that may mean giving up her only chance at having a life worth living.
Goodreads Rating – 4.27/5 Stars 
My Review – 
I have been meaning to read this for a very long time. With all the hype surrounding Alexandra Bracken's books, I had high expectations, but I'm glad to say that the book was even better than expected. The first half of the book did remind me a little bit of 'The 5th Wave', however, it was still an incredibly unique and well-written book. 
This book is well paced and highly addictive.  The stellar character development really helped, as we were introduced to a variety of characters with different backgrounds and personalities. I've read way too many books where the characters all seem so similar that they just begin to bore me. Bracken created two similar characters, Ruby and Chubs, and took her time building up their friendship. 
Ruby starts off as a scared and weak child who throughout the book grows into someone who is emotionally strong. Rather than relying on others, people start to rely on her to protect them. This is a little bit cliche but it worked well with the plot, so I don't really have any complaints. Compared to some other female protagonists (America Singer), she didn't annoy me that much with her fear and 'self-hate'. 
Liam, Chubs, and Zu were great. They are all so different yet they work well together. We are presented with 3 characters of different ages, abilities, and backgrounds who are working together to stay alive. Liam is incredibly protective and has a heart of gold, which sometimes puts him in harms way. Chubs is smart and strategic but also loyal to the bone. Zu was a refreshing addition to the novel and she reminds us that they really are kids who have been through hell and back. 
There was so much action throughout the book that I just couldn't put it down. The romance was cute and the ending broke my heart to the point where I'm conflicted about whether or not I want to read the next book ( but I will). My last point would be that Bracken is incredible at writing antagonist in stories. The dark-minded Oranges of the book are portrayed really well ( new American Horror Story season?). 
I would recommend this to everyone! 
My Rating – 4.5/5 Stars