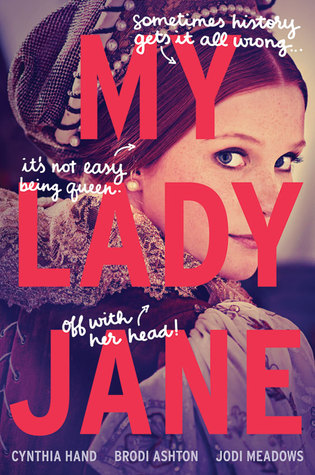 Synopsis – 
The comical, fantastical, romantical, (not) entirely true story of Lady Jane Grey. In My Lady Jane, coauthors Cynthia Hand, Brodi Ashton, and Jodi Meadows have created a one-of-a-kind fantasy in the tradition of The Princess Bride, featuring a reluctant king, an even more reluctant queen, a noble steed, and only a passing resemblance to actual history—because sometimes history needs a little help.
At sixteen, Lady Jane Grey is about to be married off to a stranger and caught up in a conspiracy to rob her cousin, King Edward, of his throne. But those trifling problems aren't for Jane to worry about. Jane is about to become the Queen of England.
Goodreads Rating – 4.16/5 Stars
My Review – 
This book took my completely by surprise. I had zero expectations heading into it and was blown away by how funny and entertaining it was. The characters were epic and the plot line was so incredibly unique and well crafted that it's going to be hard to fault this novel. 
I didn't know much about the book, so I was expecting a standard historical novel. I was pleasantly surprised at how well this book was written considering it was co-authored, which usually doesn't work well. The writing was a good balance between our modern English and the old fashioned Tudor English. 
The plot was incredibly entertaining and well presented. The humour throughout the book kept major tragic events of the time incredibly light hearted. It seemed like our protagonists were always on the verge off death, however I feel like I was either giggling or full on laughing through the entire book. The sarcasm and witty comments were a refreshing element for a historical novel. 
Our main protagonist Jane is about to marry a stranger ( which was normal at the time) since her cousin, Edward VI, is dying, and she's next in line for the throne. Did I mention that Jane is a bookworm! If that's not reason enough too like her i'm not sure what is. The typical teenage issues of our modern day ( a teen boy that's never been kissed) are mixed in with issues of the era ( heads being chopped off), which make the novel relatable in a way as we are able to connect with Jane, Edward and G. 
The idea of making people shape shifters was interesting. "Verities"are people that hate shape shifters and "Eðians" is the official name for the shape shifters. Rather than get into the complex intricacies regarding politics of the Tudor period, the authors decided to come up with another reason to start a war. 
The romances were awesome as they were slow and realistic. We didn't see any super romantic or heroic deeds from our male protagonists, however we did see awkward teenage romance. We saw what it would be like to be married to a total stranger at such a young age and we saw what it would be like to be a king and constantly live by certain rules ( who you can and can't be with). 
I would recommend this to everyone! Even if you're not a fan of historical fiction, I think that you'd like this. 
My Rating – 4/5 Stars