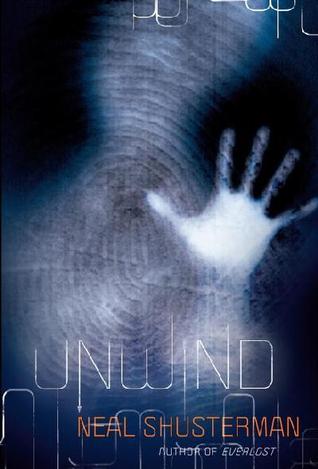 Synopsis 
Connor, Risa, and Lev are running for their lives.
The Second Civil War was fought over reproductive rights. The chilling resolution: Life is inviolable from the moment of conception until age thirteen. Between the ages of thirteen and eighteen, however, parents can have their child "unwound," whereby all of the child's organs are transplanted into different donors, so life doesn't technically end. Connor is too difficult for his parents to control. Risa, a ward of the state, is not enough to be kept alive. And Lev is a tithe, a child conceived and raised to be unwound. Together, they may have a chance to escape and to survive.
Goodreads Rating – 4.19/5 Stars 
Review 
Unwind by Neal Shusterman is a spine-chilling novel about a parallel universe where parents of a child between the ages of 13 and 18, can have their child's organs harvested or 'unwound'. You're teen harboring too much teen angst and aggression? No problem! Why don't you send him over to us and take him apart and sell his organs…
An aspect of this novel that seems to be not far from our own reality are the laws against abortion. However, a parent can leave their child on someone's doorstep and if they are not caught, the person that finds the child is obliged to keep it. Finders – Keepers, whether you want it or not. 
As you've read in the synopsis, the reasons for parents unwinding their children varies from being tired of behavioral problems, being unwanted, religious reasons or pure selfishness. Aside from our main protagonists, there was a boy whose parents died, so his aunt became his guardian and decided to have him unwound so that she could have his inheritance.
There were times in when I was reading this book and it completely broke my heart. The children are portrayed as being strong at times, but we also get to see the true fear that one would experience in such a situation. One thing that I foud unusual was the lack of anger the kids had towards their parents. They blamed the government for having this program, not their own parents for getting rid of them. 
The plot was fast paced and entertain throughout the whole book. The characters were really well developed as they each came from different backgrounds and had individual clear cut personas. It was a great book to read because it makes you think and it actually makes you feel scared for the characters. I was under the illusion that most of the characters were 16 or 17 years old but at the end of the book I found out that Lev, one of the main protagonists was 13, which made him even stronger as a character. 
Lastly… and I always seem to leave this to the last point because I try to note down the positives before stating the negatives. The romance was so out of the blue. There was no lead-up to it, even though it was obvious that it would happen, I couldn't care less about it. The characters barely knew each other and didn't interact all that much. Hopefully, it will get better as the series progresses. 
Overall, this was a good book and I would definitely recommend it! 
Rating – 3.5/5 Stars