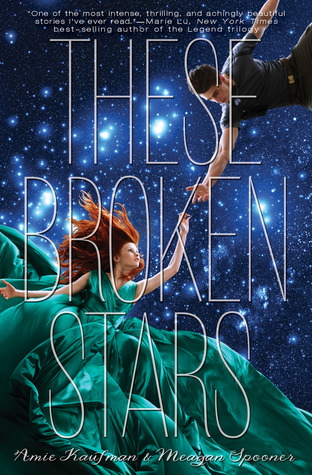 Synopsis –
Luxury spaceliner Icarus suddenly plummets from hyperspace into the nearest planet. Lilac LaRoux and Tarver Merendsen survive – alone. Lilac is the daughter of the richest man in the universe. Tarver comes from nothing, a cynical war hero. Both journey across the eerie deserted terrain for help. Everything changes when they uncover the truth.
The Starbound Trilogy: Three worlds. Three love stories. One enemy.
Goodreads Ratings – 3.94/5 Stars
Review –
This book is like the Titanic set in space. Two star-crossed lovers, a wealthy and powerful young women that falls in love with a poor commoner. However, in this book, everything begins with a tragedy and goes on to focus on survival. There are however still many events that occur throughout the book that strongly reminded me of the Titanic.
The chapters move between being Tarver's POV & Lilac's POV which sets us up with the idea that these two will be connected in some way through the entire novel. Lilac LaRoux is a wealthy and powerful young woman and Tarver Merendsen is the youngest war hero of the galaxy. They are introduced to each at first in an awkward manner which initially throws us off course. It takes them a long time to form a good relationship that it realistic, which is lacking in so many YA novels nowadays. It was so refreshing to see two people get to know each other at a realistic pace, first becoming friends and then developing romantic feelings for one another.
Lilac and Tarver are both stubborn and condescending but they are both able to show compassion, even if they sometimes struggle with it. They come from different backgrounds, have different skills and different goals, however, due to the tough circumstances and human nature, they develop an understanding of each other. We are presented with two very strong but not unrealistic characters, that towards the end of the book are able to put their differences aside and merge into one.
The plot was incredibly interesting and had me turning the pages at a rapid pace. I did get slightly confused at times but that was just because some of the events were so unique and out of the blue that it took me a minute to wrap my head around it.
Aside from having characterized POVs, the start of each chapter began with an extract from an interview with Tarver that took place at the end of the book. It kept giving little clues as to what would happen in the upcoming chapter, as well remind me that Tarver and Lilac had survived and somehow returned to their civilization.
My Rating – 4/5 Stars